Placing You at the Center
of the Centrix Wealth 360° Process
Our partners at Centrix – each with unique perspectives, experience, and skills – together focus the 360° Process on you. This process generates a deep understanding of where you are, where you want to go, and where gaps interfere. It reveals where we can help you:
to live your best life now and
to prepare for your desired future.
Lori Siegel, CFP®, CEPA, CRPC®, Founding Partner of Centrix Wealth Partners, leads our advanced planning process to address vital financial, wealth management, and estate issues.
Robert Russo, CFP® CFA®, Founding Partner of Centrix Wealth Partners, leads our portfolio construction process. He constantly researches economies, capital markets, and strategies to help create your desired outcomes.
The Result: Five Steps that can enable you to work toward your financial and life goals.
This process is designed so that you will be able to effectively transfer your wealth to the next generation and to maximize your charitable giving.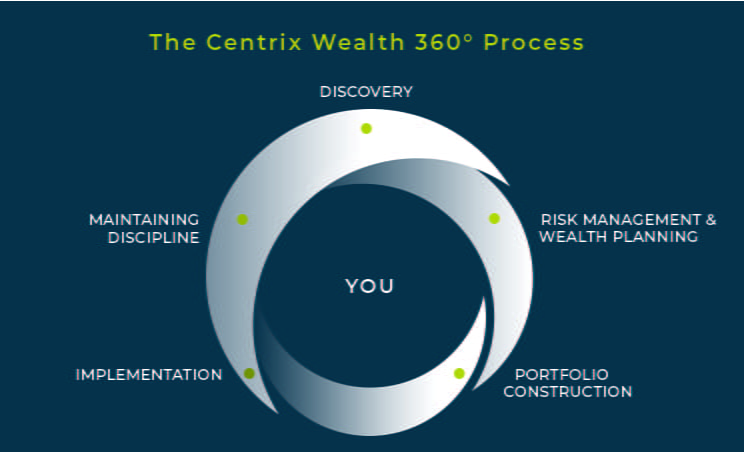 The process is designed to expand the probability that you will be able to achieve your goals. We sit on the same side of the table with you . . . to act solely in your best interest.
The 5 Steps of the Centrix Wealth 360° Process Are Here:
To achieve a deeper understanding of the values and relationships that motivate and define you.

The first step in a successful relationship is to get to know each other. Every piece of advice we provide emerges from our ability to understand and connect with you.

It's about much more than just your finances. That's why we devote considerable time and attention to:

Secure a meticulous grasp of your aspirations and objectives,
Look at your current lifestyle and the one you envision for your future,
Gain an understanding of your family dynamics, and
Listen for the charitable or legacy intentions you may have.

In this initial step we …

Discuss your goals and the objectives for your wealth,
Understand how you want to work with your advisors, and
Demonstrate the value we place on your wealth through our process.

To help you maintain your current lifestyle while planning for your future.

Comprehensive planning produces a detailed roadmap to help to connect your current financial situation with where you want to go. We place a great deal of importance on the area of risk management. Why? Because if you don't identify and deal with underlying risks in your financial life, it is possible to blow up any type of lifestyle or retirement plan. After we have identified both your risks and opportunities, we have a vast network of value-added service providers that we engage into our process to help us help you. Once we crystalize our findings, we talk together about your options and hand you our specific recommendations for moving forward.

No amount of investment acumen can overcome poor planning.

Proper wealth planning can produce a deep and positive impact on maintaining your current lifestyle, transferring wealth to future generations, and carrying out your philanthropic endeavors.

In this step, together we …

Look for potential risks that could trip you up
Assess your cash flow needs and liquidity requirements,
Discuss how the investment plan is impacted by the estate and tax plan, and
Generate a plan for philanthropy and for your other areas of interest.

Helping transition your investments to line up with your goals.

Portfolio construction unites our independent investment research with our client-centric focus.

Asset allocation is the process of determining how a portfolio may be built based on capital market assumptions for each asset class. We believe assumptions should be treated as just that … serving only as guideposts for making long-term decisions.

Here we customize our asset allocation and manager research to reflect your investment and financial plan. In addition, we strive to optimize for tax considerations, your time horizon, and your investment goals.

In this step, together we…

Review your existing investment portfolio and settle on how to transition your portfolio,
Add a behavioral finance perspective to your engagement, decision-making, and risk tolerance, and
Customize portfolio recommendations for your liquidity and income needs.

We seamlessly execute on your financial plan and investment strategy.

Your experience as a client truly begins here.

As the elements of your plan are put into place, we will meet with you to be sure you are aware of – and comfortable with – all of the resources and tools available to you and discuss what you can expect in the coming months.

In this step, together we-

Work on the most critical risk management and estate planning elements of your plan,
Coordinate and organize your financial documents,
Utilize technology that allows us to communicate our performance and to present how it connects to your custom goals and objectives, and
Employ a balanced perspective that gives you comfort and financial control.

We consider our client relationships to be personal partnerships characterized by:

accessibility,
objectivity and
transparency.

Our goal: for you to look to the future with anticipation and not apprehension and feel confident that our practice is the best place for you.

Staying strong when life happens and when the markets are volatile.

The most far-reaching element of the financial planning process occurs in the months and years to come.

Our team remains at your side to watch over you carefully along the way, reviewing and updating your plan to make sure you stay on track. We look after you by:

Managing and tracking your investments across all of your accounts.
Following a communication plan to update your progress and take into consideration changes (and potential new risks) as they happen - life is never stagnant, and markets can be mercurial.
Remaining in continual dialogue with your advisors, including for tax and estate planning, to stay up to date to avoid surprises and to unlock positive planning opportunities.

You can feel confident that we will handle the details, so that you can focus your time and energy on the things that matter most to you.
"Our goals can only be reached through a vehicle of a plan, in which we must fervently believe, and upon which we must vigorously act."

Pablo Picasso